Baltimore is an especially small town if you're unattached, say Jewish singles.
Evelyn Shnier, 41, agrees with that assessment. A year ago, she was a divorced mother of four school-aged children, looking for a way to meet an eligible, marriage-minded man - - while juggling the demands of raising her family and making ends meet as a full-time nurse. The number of available Orthodox single men in Baltimore was as limited as her free time. Then a computer-savvy friend suggested Evelyn try the Internet.
Her reaction: "You've got to be kidding!"
According to Linda Katz, 37, who met her husband Noah, 34, online, the Internet "was safer than it is now. I thought the idea of an online shidduch service was really cool." But, she adds, that was in the early days of the Internet, when it was accessed "mostly by computer nerds - - the sweet, shy, honest ones." Linda "wouldn't ever trust the chat rooms - - I never go near them nor allow my kid to."
Although she hasn't yet met her bashert, Suzanne Bulua, 30, is enthusiastic about using the Internet to find Mr. Right. "It might be a little scary to meet someone on the 'Net when you read such horror stories in the news," she concedes, "but you can take precautions and be smart and alert… I think the advantages far outweigh the disadvantages." She has communicated with eligible men living in England, Switzerland, Israel, Australia, the U.S. and Canada. "For those of us outside New York, where most of the shomer Shabbos singles live, using the computer to meet other singles is fantastic. Living in Baltimore, one can get the feeling of being alone and isolated. You either have to ask friends and relatives to set you up, or wait for shadchanim (matchmakers) to remember you."
Dovid Shnier agrees. "Traditional shadchanim are always difficult to get hold of," he says. "Either their phone line is busy, or they are busy, or they're not in. The Internet lends itself perfectly to Orthodox dating practices. . . because most Jewish communities (outside of) New York and Israel have a limited number of eligible Jewish singles." When one is presented with a potential date through a traditional shadchan, "invariably it is someone who is from out of town. The Internet's global focus makes it an ideal medium; it's always available. Unless," he adds jokingly, "you use America Online as your provider."
Evelyn didn't have a computer, so in between carpools she visited the friend who had suggested that Evelyn turn to the Internet for a date. Sitting at her friend's desk, Evelyn glanced at some of the formatted online questionnaires her friend had saved for her perusal.
One post stood out from the rest. Dovid, then 39, seemed bright and possessed a great sense of humor. Actually, it wasn't the first time Dovid had posted on the shidduch listservice. "The first posting was straight and to the point," he says. But it yielded no responses, so he "reposted a humorous version."
Alas for Evelyn: carpool awaited. She dashed out her own completed compendium into cyberspace and told her friend she'd be back the next day, so she could respond to Dovid's post when she had more free time.
But before Evelyn could return to her friend's house, Dovid meanwhile had seen Evelyn's post. He was intrigued. Evelyn's particulars "looked and read like a female version of mine," he smiles. "I think she cloned my format as a way to flatter me," he wags. He wasn't exactly new to the world of shidduchim. He had been divorced for six years. Since that time, Dovid had traveled from his hometown of Toronto, to as far away as Los Angeles, to meet single women that were suggested to him by friends and shadchanim.
When Evelyn returned to her friend's computer the following day, she was surprised that her post had already reaped results: her email box contained a message. It was from Dovid, the man whose post had so appealed to her. Correspondence began with a few paragraphs; he responded the next day.
"I always approached any Orthodox date by asking for rabbinical references and other credible references," says Dovid. This standard would not be compromised just because I met my date on the Internet," he says.
"We exchanged references," Evelyn corroborates. "I gave him four: a person I worked with, a personal friend, my Rav, and a neighbor. I figured that covered all areas."
Soon Evelyn was making daily trips to her friend's computer, sharing her life with Dovid online, as he was with her.
"We talked tachlis right away because we both knew what we wanted, and didn't want to waste time with another false lead," she states. Evelyn was also impressed that Dovid made a point of including some words of Torah in each correspondence.
Linda Katz also favored a direct approach with her husband, Noah. "I moved (to Baltimore) determined to get married with HaShem's help. My friends make fun of me because it was a goal that offended a lot of singles who are trying to be okay with where they are in life. I let everyone know I was looking and what I was looking for."
Once Linda posted her formatted C.V., she received numerous responses. She followed up on those that interested her one at a time, rather than simultaneously. The letters were long, and the process was time consuming. " I had trained myself . . . to ask the really hard questions. My post was extremely specific. I did not want to date undirected men and did not have time to correspond with anyone not fairly appropriate. There were very long letters - - mostly about hashkafa (philosophical outlook on life)." Recently she threw away those letters - - except Noah's - - "hundreds and hundreds of pages," Linda reports.
Although they did describe themselves in general terms online, neither Dovid and Evelyn, nor Linda and Noah exchanged photos before meeting in person. "We specifically didn't want appearances to influence our opinion," says Evelyn. Dovid agrees: "Photos can be deceiving."
Evelyn was worried that Dovid wouldn't find her attractive and vice versa. She was also concerned about how he'd react to her children. But Dovid wasn't nervous; the previous weeks' numerous email correspondence and phone calls were assuring. "I knew I would be compatible with Evelyn," he states. But he was concerned with getting the stamp of approval from Evelyn's children and her friends.
But physical chemistry has to be there, and if it isn't, the results can be painful. Describing one such awkward meeting, Linda Katz recalls a scene at an airport: "We didn't know what the other would look like- - and one guy who I'd really liked online was so unattractive in person that I came home and cried. But that's just the normal thing in any dating."
Her husband, Noah, gives this analogy: "All resumes look good to a company looking to hire, but an interview is vital to see if it is worth offering a job."
Another woman, requesting anonymity, found herself on the other side of that equation: "The men I've met (on the computer) have all asked for a picture. One (Orthodox) man with whom I exchanged phone numbers called . . . one of the first questions he asked was if I was as good looking as I said I was in my bio. He wanted to see what I looked like, so he asked to meet me in the lobby of a shul. He looked me up and down, barely said anything, and then left. So rude - - I felt like a piece of meat.
"I can look at this in a comical light - - and I do - - but my point is that men are men, religious or not. Looks are very important in every community, even if (the men) deny it - - which they do."
Once the Katzes met, things progressed quickly. "I was extremely optimistic after the first date," Linda confesses, noting that within three dates, she felt Noah was the man she would marry.
Three weeks after their first email correspondence, the Shniers met for the first time. "I knew he was for me on our first date," Evelyn says, but for Dovid, it was literally love at first byte. He recalls, "I knew she was the woman I wanted to marry as soon as I saw her email posting," but he waited six months until he proposed - - in person.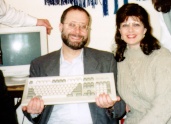 Do they tell other singles how they met? "Because of the nature to prejudge the Internet, I never told my friends that 'I met my wife on the Internet,'" remarks Dovid. "I usually presented it in more euphemistic terminology, such as 'I am communicating with my date using email.'" But Evelyn "definitely" recommends this method to "everyone."
Says Linda: "Being divorced and over 30, I had a terrible time with shadchanim who tried to put me with weirdoes and much older men. I did much better on my own and at the (singles') weekends. But the guys on the 'Net weren't the same ones as at the weekends. Maybe they weren't as hopeful - - but they weren't cynical, either."
A major advantage, Linda says, is "having a chance to think through what you're really all about when forced to write it down," as well as "meeting people who otherwise would never be introduced to you." Evelyn agrees. "You can progress at a rate that is comfortable for you. And it gives you an opportunity to compose your thoughts so you don't sound like a total fool." There are no bad hair days on the Internet. And while many "conventional" couples save their love letters, couples who meet over the Internet have a record of their entire courtship on disk.
The Internet has its share of disadvantages, however.
While Noah Katz felt comfortable conversing via email with Linda, he "felt awkward depending on (email) as a means of learning about her personality and missing the nuances given in face-to-face conversations."
Besides requiring access to a computer, not everyone who posts is honest. "That's people, though - - not the 'Net. People don't always admit to problems," notes Linda, "especially health problems . . . As with any dating, people can't throw caution to the wind." She continues, "The instant rejection probably hurts some, too - - but instant rejection sure beats finding it out after you're vested."
Is there an audience that should not meet this way? Linda recommends that "very young singles, those raised in a sheltered environment, or people just starting to date for the first time should have a shadchan screen people for them." In fact, the majority of people using the shidduch listservice are "older" singles or have been married before. But she is concerned that those new to the shidduch scene "may not know themselves well enough to portray themselves correctly - - and so might attract the wrong respondents." She also maintains that "some people are not prepared for the emotional intimacy that can develop in an online relationship - - and baring one's soul to the wrong person can prove dangerous.
Suzanne Bulua is sanguine. The various websites and listservers for Jewish singles, she says, are a "wonderful way to meet someone whether you are shomer Shabbos or not. Technology has created a bank of singles where singles can meet others in a pleasant and non-threatening arena. It's a wonderful thing."

More Tales from the Dangerous Housewife